Following an extended winter and a slow wet spring, many parts of the country are now experiencing unprecedented dry conditions and it's essential farmers have a grassland strategy in place, and act on it, to get through the current situation.
Farmers are having to revisit grassland management and assess how to ensure adequate summer/autumn grazing and winter forage is produced.
"Having been through a number of droughts in New Zealand, there are some very effective strategies that should be considered under the current challenges," says John Tobin, Systems Manager.
"First and foremost, know your feed requirements, how much feed is on hand, how much is required to fill the deficit, and what will be needed for winter requirements.
"Work on some best and worst-case scenarios over the long term to give an indication of the shortfall for winter requirements. You must know what you need before you can decide on how to best produce it.
"It's advisable to break your feed plan into manageable time frames of 10-15 days and keep reassessing thereafter. A lot can change within the space of a few days so don't try and plan for the unknown – work within a realistic timeline.
John adds, "Reduce feed demand by removing any non-milking stock from the platform. This is an ideal time to clear out any unproductive animals, maximising the forage availability for your profitable animals.  This also applies to youngstock.
"Looking at pasture management, aim to get the rotation out to 30 – 40 days if we don't get the rain and the drought persists. Ryegrass leaf emergence slows due to the moisture deficit so the longer the recovery period between grazings, the better.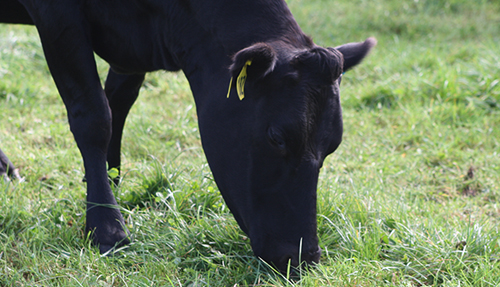 "Avoid the temptation to overgraze. If the sward is grazed below 4cm it will deplete the plant energy stores and slow down recovery when the rain comes. If overgrazing is becoming an issue, move cows onto a sacrifice paddock.
The practice of leaving higher covers to retain moisture in the soil is often contemplated at times of low rainfall. However, this will have little to no effect on retaining moisture in the soils and could, in fact, have detrimental effects when rain does come, if the grass has died or gone brown it will start to rot and cows will not eat this.
"Farmers should also skip nitrogen fertiliser applications until rain is forecast. It will be ineffective and a waste of money."
"This is important year-round but pay particular attention to providing good water availability. Cows can drink up to 100 litres on hot days, so if your system is struggling to keep up look at ways to offer additional sources.
"Your herd management during this time could have significant consequences on its productivity and fertility so focus on its needs and how best to address them. 
"The current conditions will undoubtedly affect many farm business cashflows. Update your financial budgets reflecting lower milk production income and increased feed costs and communicate with the bank on your working capital requirements. Act quickly on this so you know exactly where you stand from a financial perspective.
"And finally, despite all your concerns, try to stay optimistic. Keep focussed on controlling the controllable. Make time to get off farm and spend time with family. You're not alone and remember there are constructive changes that you can make to ease the current challenges."